In a Neighborhood Obliterated by Katrina, Saving Kids Through Urban Farming
After Hurricane Katrina ripped through New Orleans in 2005, storm waters sank the city's Lower 9th Ward under 12 feet of water. Katrina killed more than 1,000 people, and the already embattled Lower 9th Ward experienced the highest concentration of deaths due to the storm. In Katrina's wake, just 37 percent of households returned to the neighborhood, whose population was about 14,000 in 2000.
More than a decade later, the Lower 9th is still struggling, and like many poor urban areas, access to fresh, nutritious food is still limited. In fact, healthy food is probably more scarce than ever. The big Winn-Dixie supermarket never came back and many of the corner groceries are boarded up or gone.
That water made things worse just lends the term "food desert" a dark twist.
New Orleans Food Desert Map
Our School at Blair Grocery
Low-income census tracts where a significant number or share of residents is more than 1 mile (urban) or 10 miles (rural) from the nearest supermarket.
New Orleans food deserts are concentrated in the eastern side of the city, designated the 9th Ward. Our School at Blair Grocery is located in the Lower 9th Ward, the area of the city with the highest number of deaths during Hurricane Katrina and whose residents continue struggling to recover more than ten years later with lack of access to resources like healthy food. Economic Research Service (ERS), U.S. Department of Agriculture (USDA). Food Access Research Atlas.
When a New York City public school teacher named Nat Turner came to the area in 2006, he had just left his job and had little money. But a strange, fateful series of events eventually culminated in a project—called Our School at Blair Grocery—that's helped transform a 2-acre pocket of this decimated neighborhood into a produce and economic mini-engine.
With some luck and persistence, Turner is helping local kids become farmers. He's putting money in their pockets when they help around the farm, selling home-grown produce to some of the city's best restaurants, and teaching kids that food doesn't always come freeze-dried or in a box.
Now Turner wants to take his concept to different areas of New Orleans and to other cities around the country. Here, we talk with him about his mistakes, the challenges he faced and how he turned a torn sack of soil and an old pink bathtub into a food oasis.
What brought you to New Orleans?
I started coming to New Orleans in 2006, when I was a teacher in New York City, with kids who had an interest in reconstruction brigades. We started out gutting homes, cutting grass for people, or painting or putting together TV stands for old ladies. At some point, we were down here in 2008, cutting grass with swing blades, and then doing it again, and I thought: We should figure out how to do something with these fields.
Did you go there specifically to work with food and farming?
The farming piece came by accident. I had no money. I moved into this building with 12 bucks, and a 1978, blue Gillig school bus. I think I put a couple dollars of gas in there, bought some roll-your-own cigarettes and a can of red beans. Somebody came up to me with a sack of torn soil. I found an old pink bathtub, I borrowed a shovel, got some sand and some 5-gallon buckets. I grabbed some wild onions out of the ground. Someone had given me some carrot and tomato seed, and I planted.
I said, "I'm going to plant a garden because I'm so tired of eating red beans." Then all of a sudden, Pam Broom—the mother-sister of all-things-urban-gardening in New Orleans—gifted me some soil, from the Blue Moon Fund. Then Macon Fry, the best urban farmer in New Orleans, told me to go down to Parkway Partners nursery, and I went in their dumpster and found some scraggly tomato plants. I filled the big blue bus with plants and took them home.
How did Our School at Blair Grocery turn its educational function into a business?
The first time the entrepreneurial end came up was when we had these great looking tomatoes, and this old lady came up to me, and said, "Are you the Tomato Man?" and I was like, "Yes, I am!" Josh Jones [one of Turner's first students] put them in a paper bag and told her they'd ripen in a few days. She handed him two bucks. Then all the kids in the program—every time someone came around—it was like the ice cream man, only the kids were taking their money...they're 15, 16 and 17 years old. They want sneakers and iPhones. They get paid every day in cash.
How did Hurricane Katrina make food access worse in the Lower 9th Ward?
Half the people in our neighborhood don't have access to a car, but might be able to get to Walmart once a month. They'll go out there and load up on mac and cheese. The 9th Ward is cut off from the rest of the city. We don't have a transit system that's complementary with the next parish.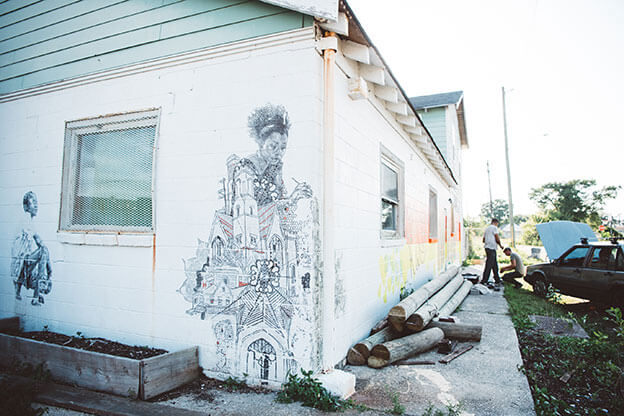 Before Katrina, what you had was a bunch of neighborhood stores and a couple of gas stations. You might be able to get a fried catfish po'boy. The stores now are not much different. They sell a lot of alcohol, a lot of weed wrappers and a lot of unhealthy food.
It's not a food desert. It's food desertion. Anyone here over 60 would say they used to grow vegetables in their yard. But then, in the 60s, 70s and 80s, people got reliant on the Winn-Dixies, and their [locations] had to do with traffic flows and property values. There will never be a Whole Foods here.
How would describe Our School at Blair Grocery?
It's been through three phases and I'm looking at four and four-plus now. The first was a not-for-profit where you relied on money from foundations.
Two was, we started selling to restaurants. Our best week of sales was $2,500.
Three was more ontological than anything else. In the summer of 2013, we had 6,500 eggplant plants, we had our own compost, our costs were like $13 for the seed. We sold thousands and thousands worth of eggplants.
Stage four is: What if we can do 6,500 eggplants, 6,500 okra, 6,500 chickens and pigs at a farm within 45 miles from here. Four-plus is: What if we can replicate this across New Orleans? If you replicated that 10 times across the city then you can start talking about sufficiency, and slowly changing food habits.
Do you think you've helped?
Living in the ghetto, there's madness that ensues every day within 200 feet from our place—shootings, open air drug deals, domestic abuse. I'm not a big fan of help as a framework for starting to think about stuff. But I have, we have, provided a bright light that it's possible for someone to do something. I think a lot of people come and go in the Lower 9th Ward. They come down with their church, and all of the sudden, they're not here anymore.
What advice would you give to someone who's thinking about launching a similar project?
You've got to figure out a revenue stream that you can have control over, otherwise you're just writing grants and scrambling. If we show up in the French Quarter with produce, someone's going to buy it. We have 1,600 restaurants here. I'm not sure this model would work in Iowa.
If you can find educational partner institutions to work with you, then you plug into idealistic millennials and you can share their vision. Number three is money, number two is service learning, number one is: You have to think of this as a vocation, not a profession.